Suppose you own newly organized café. You don't have an idea on how to flourish its publicity. Preparing pamphlets and imprinting messages are bygone marketing concepts. You know that most of the people do not even look at those imprinted message. So, you wonder about how to fill up vacant seats of café?  If you've been collecting your patrons' mobile phone numbers, you can quickly send everyone on your contact list. A mass messaging services offering a free appetizer with the purchase of an entrée. Seats filled.
So the natural question is, how do I send a mass messaging services? Put down your mobile phone. Sending mass text messages from your phone doesn't work. You simply can't send 100 or 100,000 (yes, mass text messaging campaigns can be that big…and bigger) from your own phone. It would take you quite a long time, and if the message is commercial in nature, your carrier probably forbids you from sending the messages in the first place. Aakash SMS mobilize powerful API integration, which conveys your marketable messages to predetermined number of users/customers.
How does mass messaging works?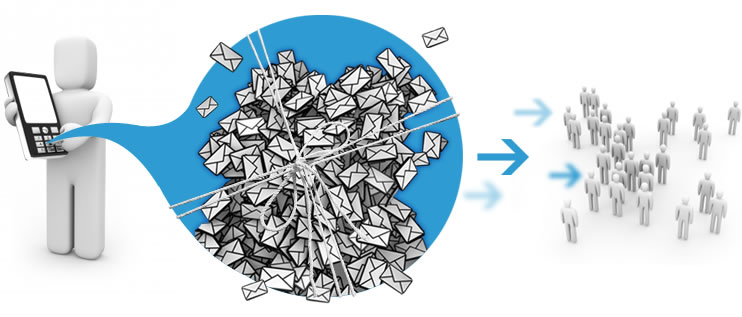 Once you've chosen a mass text messaging service you'll want to create an account, sign up for a plan that allows you to send as many messages you need, and then login
If you've chosen a reputable mass text messaging service, they definitely offer features that allow you to sort your contacts into groups
Type your relatable messages, luring customers on your way
Depending on the number of people who you are sending your text message to, it will take anywhere from a few seconds to a minute or two to deliver all of the messages.
Why mass messaging Services in Nepal?
The message sent to potential user will not be ignored as customers are very prone towards their mobile phones and its function.
It is easy and user friendly, as agencies like Aakash SMS integrate powerful software application, which send mass message to thousands of recipients.
It helps in increasing efficiency and provides a cutting edge competition to business houses.
It helps in building trust bond between consumers and companies as user will be well acknowledged of seasonal offers and discounts.
Even advertisement can be sent along your delicate messages.
It is excellent ways of promoting any size of business circle either large scale organizations or small scale organization.
With the growing need of sending mass SMS, the companies are now outsourcing the work to these agencies that performs this service faster and updates about the products and offers of the company to their consumers.