Win free tickets for Salman Khan's Dabangg tour in Nepal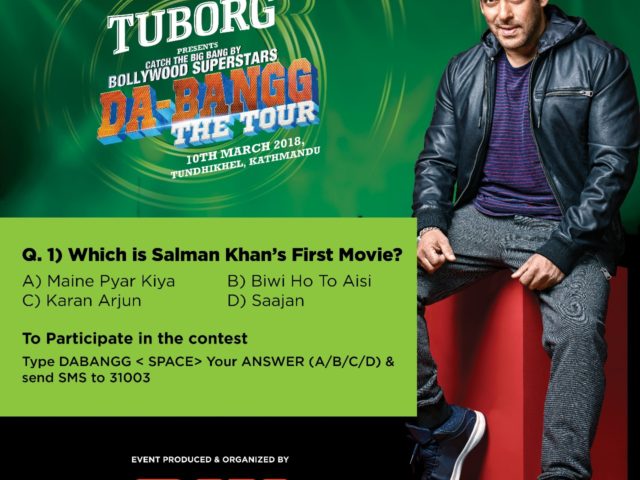 You can have free tickets for your beloved star and get to explore off screen attachment with Salman Khan Though, you might have desired to procure tickets at hefty price for one and only dream celebrity Salman khan, winning free tickets is also an outcome of blessed fandom.
Go through pages of Kantipur, which will showcase simple queries and muti-choices option – A/B/C/D. Play the quiz with Aakash SMS and win the free tickets.
Go to inbox
Tap on compose
Type Dabangg <space> your answer
Send SMS to 31003
 Try out your fortune and groove in Salman Khan's Dabangg avatar. 
Only Salman Khan's fan are wishing for early  March and ending February in one blink.  ODC entertainment is collaborating with Sohail Khan Production and JE events to nurture audiences with Salman Khan's presence on 10th march. Tudikhel will be in awe of Tiger Khan accompanied by Sonakshi Sinha, Kriti Sanon, choregrapher/actor Prabhu Deva, DaisyShah, Jacqueline Fernandez, Manish Paul, Meet Bros and many more.
If you are biggest fan of Salman khan, you must be thrilled to see him live in Nepalese stage. Plus, you might be wondering about tickets. According to Simant Gurung, MD of ODC entertainment, the show's tickets will be up for sale from February onwards and the prices will range between Rs 2,000 and Rs 10,000  Adding to gratuity, you can be blessed with free tickets and shake a leg along your favorite star at the same time. You can strike your luck on free tickets via Aakash SMS.